'Crime and banditry, distress and perplexity will increase until
the Bishops open Joanna Southcott's box'
The Second Coming has always struck me as an administrative balls up waiting to happen. I mean, everyone seems to have a different idea of when it's happening, what Jesus will do and who will be affected, and they can't all be right, so I think there will be an awful lot of disappointed people and no little embarrassment on the part of the Messiah. What is clear, however, is where He will stay once he gets here: 18 Albany Road, Bedford, a neat end of terrace house owned and maintained by The Panacea Society.
The Panacea Society have been waiting for Jesus since the 1920's. The Society began as followers of Joanna Southcott, a Devonshire prophetess who died in 1814. Joanna used to make her predictions in rhyme, a bit like a cosmic Pam Ayres, but her apocalyptic pronouncements were taken very seriously in some quarters, and she gathered around a 100,000 dedicated acolytes.
Joanna's path took an even stranger turn in the last year of her life, when she claimed to be pregnant with the new messiah, Shiloh. She was 64 years old at the time. Shiloh failed to materialise, however, and, within a couple of months, Joanna was dead. Ever mindful of the dangers of the future, she left her followers a sealed box containing prophesies that would steer the world once the Day Of Judgement came. Her strict instructions were that the box should only be opened at a time of national crisis and in the presence of 24 British Bishops. Failure to meet the strict criteria would result in disaster. Despite numerous crises and related attempts to assemble the required quorum, the box has remained firmly closed for almost 200 years, and the secret contents stay secret.
In 1919, an unhappy and intermittently mentally unstable widow called Mabel Barltrop became fascinated by Joanna Southcott's prophesies. In time, she realised that (somehow) she was actually Southcott's miraculous child, Shiloh, although she took the more feminine name of Octavia. Mabel, sorry, Octavia, presided over a community of up to around seventy followers, all based in Bedford which, they believed, was the site of the Garden of Eden. Bedford. Eden. Yes, I know.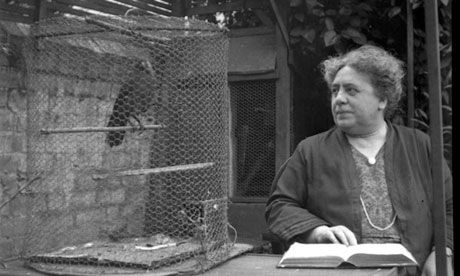 The Southcottians became The Panacea Society and Octavia began to speak to God every day at 5.30pm, writing copious notes and then passing on the messages to the faithful. The Society gained charitable status in 1926 and the Bedford community grew to around 70 people who spent their time amassing Southcott memorabilia, campaigning for the powers that be to facilitate opening the box, piecing together a multi million pound property portfolio (including 'The Ark', Jesus' proposed pied-a-terre) and starting a Ministry Of Healing.
'The Ministry Of Healing' is rather interesting: Octavia would pray and breathe onto small squares of cloth which could then be sent all over the world. Once combined with water and drunk, the holy cloth samples would cure any sickness. Or not – surprisingly, there's little empirical evidence on the results. Octavia obviously prayed and exhaled onto a lot of cloth, as they were still sending out samples until 2012, when the Ministry officially closed.
Mabel / Octavia died unexpectedly in 1934 (like I said, she breathed on a lot of cloth), and her followers kept hold of her body for three days just in case she came back. She didn't. Like many religious organisations who lose a driven, charismatic and supposedly divine head, the Panacea Society slowly began to decline in terms of membership and dynamism, circling around the same ground and waiting, always waiting for the moment promised to them to materialise.
In 2002, the charities commission ordered the Society to sell some off some of its assets or lose their charitable status. This subsequently led to a fundamental reorganisation and a rebranding as a charitable trust outside of the now-defunct religious society.
It is believed that there are only two original Panacea Society members left, presumably pretty elderly now, but still faithfully waiting for the new tenant to move into number 18. I wonder if He'll have to leave a deposit to cover any damage?